Events and Shows with Creative DRAWings®
Kick back, Relax and Learn! Creative DRAWings® has recorded and uploaded four of our Internet training classes. Learn about Creative DRAWings® in the comfort of your own home. Our class sessions covered the following topics: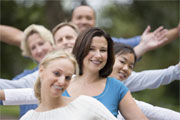 We're coming to YOU! Creative DRAWings® is proud to be out and about in the coming months.
We will be visiting many towns and attending shows to present the latest and greatest in our Creative DRAWings® embroidery software. Come join in on the fun and say "HI". We look forward to seeing you there!

Kansas City, MO
October 13, 14 & 15, 2011
KCI-Expo Center

Minneapolis, MN
November 10, 11 & 12, 2011
The Northland Inn
NEW LOCATION!
Download the Original Sewing and Quilt Expo Dancing Ladies embroidery designs.
Embroider one or all of them on your favorite sweatshirt, blouse, tote bag or whatever you choose. Then stop by the Creative DRAWings® booth at the show to get your picture taken with your project and enter our prize drawing.
One prize winner will be drawn at each event (Chantilly, KC and MN), near the close of the show. You need not be present to win. Additionally, a GRAND prize will be drawn at the end of the season, including all entries from the three shows.
(Note: Please temporarily disable any pop-up blockers you may have installed. Save the file to your system and unzip using data compression software such as 7-ZIP, WinRAR, WinZip, etc.)

Terms of Use
The Dancing Ladies Embroidery Designs are intended only for your personal use. Unauthorized reproduction or distribution of the Dancing Ladies Embroidery Designs or any portion of them, by any means to any third party is strictly prohibited. The Dancing Ladies Embroidery Designs are licensed for individual use only and may not be used in the production of goods for resale.
By opening, copying, saving or otherwise using any of the Dancing Ladies Embroidery Designs or parts of them, you agree to be bound by the terms of use of the Dancing Ladies Embroidery Designs stated herein.

Creative DRAWings® at OSQE in Chantilly, VA & Kansas City, MO,
October 2011 and Minneapolis, MN, November 2011